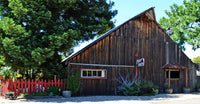 Chico's Oldest Nursery!
The Plant Barn offers:
homegrown seasonal fruits, vegetables, and herbs
traditional ornamental shrubs, roses, and hydrangeas
flowering perennials and annuals
unique houseplants and pots
garden decor and fun gifts
Message from the new owners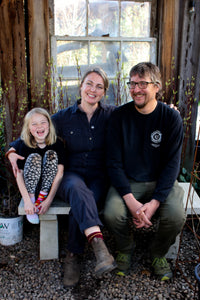 Hello!
We are Chris, Courtney, and Ruby, and we are thrilled to introduce ourselves as the new owners of The Plant Barn. Previous owner, Denise, wanted to ensure that this beautiful nursery continued on in this community. We are incredibly grateful to carry on the legacy of what everybody loves about The Plant Barn.

We established Magnolia Gift and Garden in 2008, and we are excited to have the opportunity to care for the Plant Barn. Both nurseries have their own specialties and things that our customers come to expect at each one. We plan on continuing that individuality, and look forward to remaining a part of this community, that loves and supports local businesses and plants!

Thank you!
We love our community!
"Great selection, cool garden art, and a great greenhouse full of plants you absolutely need! Lovely staff."

Colleen B. from Facebook
"What a delightful place to shop. Unique variety of plants, decor, and many more for the gardener. Also very friendly, helpful and caring. I highly recommend visiting the Plant Barn!"

Jane from Google
"My favorite plant nursery. Everyone is so helpful, plants are very healthy, large variety of plants, pots and great gift shop. :)"

Cami W. from Facebook